The twins still take regular naps. Yes, my sweet and crazy little 3.5 year olds still nap about 5 days a week. It's glorious. But in order to nap, they need a dark room. They have blinds on their bedroom window but play with them and have bent two of the slats pretty badly. They don't look awful, but they don't look particularly good either. I wanted a window covering over their window to cover the blinds, add some color, but also be super safe for them (meaning they couldn't be curtains where they could hang and swing on them).
I looked online and couldn't find a tutorial for what I wanted. I pinned this picture two years ago because i was in love with these curtains and that gorgeous shade.
I wanted something similar, but something super easy that wasn't going to take me 6 hours to make and that was sturdy enough to not get damaged from my children. This is their room after all, it needed to be kid-friendly. There window isn't too big, maybe 5 feet tall, and I got away with only using two yards of
my watercolor ikat fabric
. I had the elastic and pom pom trim already on hand and went to work. If you can sew a straight line, you can make this shade.
(here's Olivia dancing for me waaaaaaay too early in the morning while I sleepily cheer her on.)
Materials:
decor weight fabric
matching thread
1/2" - 3/4" elastic
pom pom trim (optional)
sewing machine
scissors
pins
iron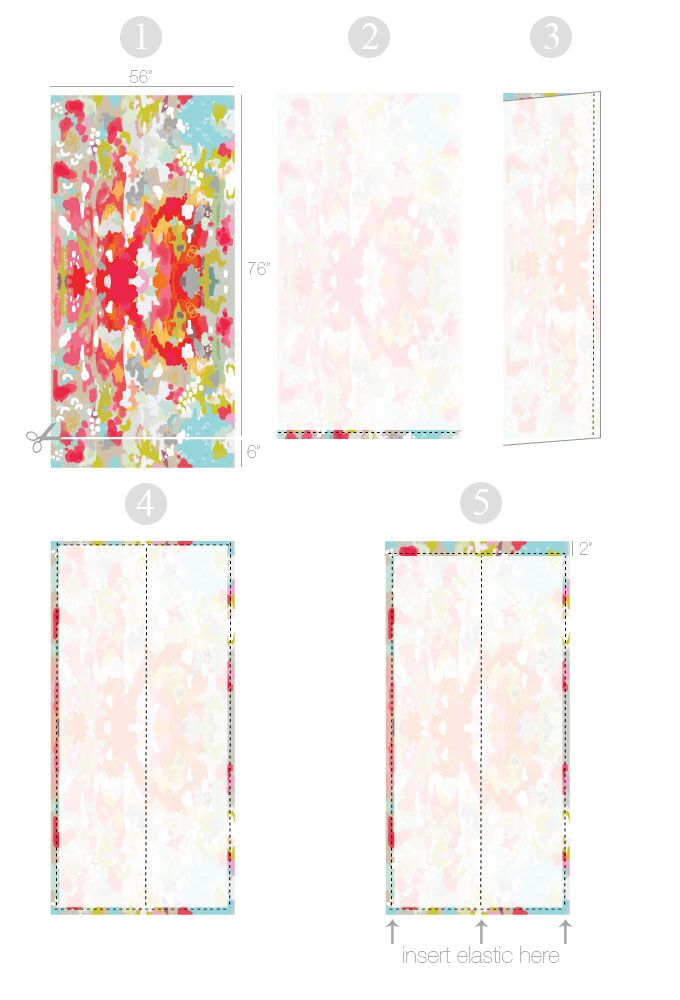 1. Lay out your fabric. Cut off 6" to make three 2" wide strips for the decorative ties. Set aside.
2. Press 1/4" seam along the width of the fabric at the bottom. Fold 1/2" and pin. Sew along the bottom.
3. Fold fabric in half lengthwise with right sides facing. Press or pin the fold. Sew all the way down the fold, but stay about 1" from the fold.
4. Press 1/4" seam all the way down the length of the fabric on both sides. Fold over 1" and pin. Sew along both sides. Sew pom pom trim to the bottom of the shade being careful to not sew the casings for the elastic closed.
5. Sew the 2" strips together by folding each raw edge in 1/4" and then sewing them into strips. Now here is where it can get a little tricky. Cut your elastic at least 6" longer than the length you want your shade. Sew the middle of one of the strips to the end of the elastic. Put a safety pin or bodkin on the other end of the elastic and thread the elastic through one of the three casings. Once you thread it all the way to the top, pin it to the fabric. Do the same thing with the other two strips of fabric and elastic. Take your shade and place it over the window. Pull on the pinned elastic to get your desired length. Sew elastic into place and create another casing at the top for your curtain rod. I had a skinny rod so I made mine about 2" wide. Trim loose threads, make sure all pins are removed and bask in the beauty of your new balloon shade.